Parking
For students:
During Fall Break/Debate Week, there will be 1000+ Longwood parking spaces within walking distance of campus for students that have a Fall 2016 parking permit.
From Thursday, Sept 29 – Tuesday, Oct 4 the following lots will be available to students with a Fall 2016 parking permit:
Landings South Lot
Putney St Lot
Vernon St Lot
Cox Lot
Stubbs Lot
Vine St Lot
Lancer Park residential spaces around the townhouses and new building
Longwood Village Lot (The FAB will be continue to run the Campus Line between Lancer Park, campus and Longwood Village through Fall Break/Debate Week)
All other Longwood campus lots, including the Wynne Drive lots, will be closed during this time.
If you plan on leaving your car on campus for Fall Break/Debate week, you must park it in one of the above available lots (preferably the Longwood Village Lot). Otherwise unfortunately it will be towed.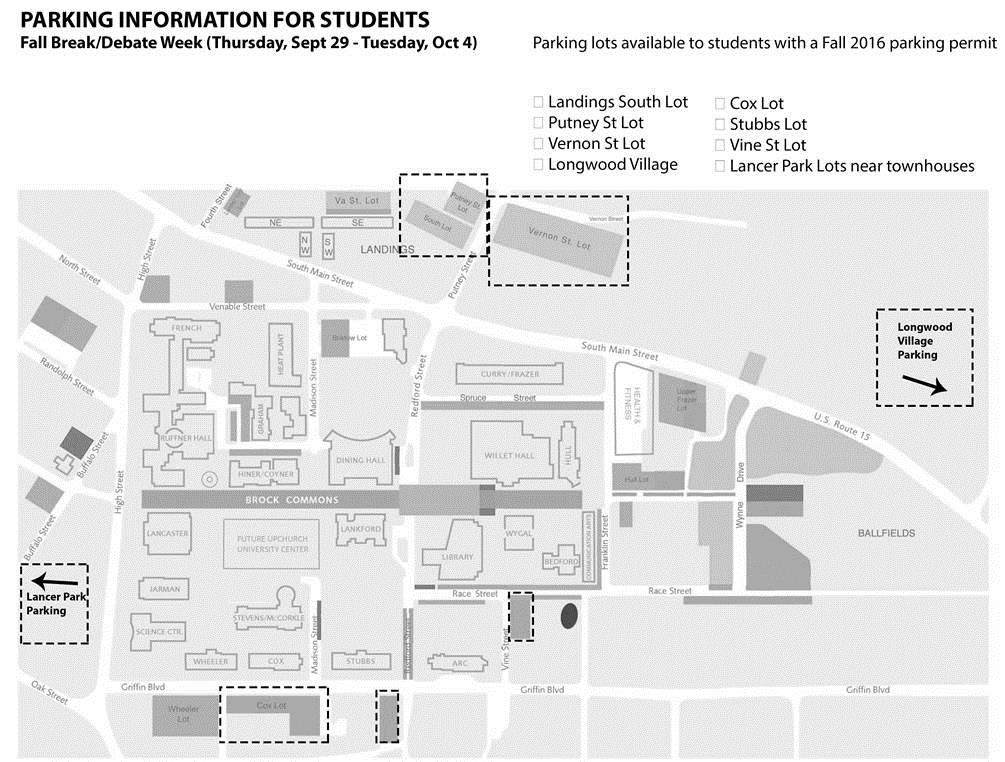 ---
For faculty and staff:
Up until the day the university closes, Saturday, Oct. 1, all parking rules will be as normal.
Between Oct. 1 and Oct. 5, there will be dedicated employee parking in campus lots for essential personnel. Your VP will communicate who will be asked to work those days.