Longwood Overview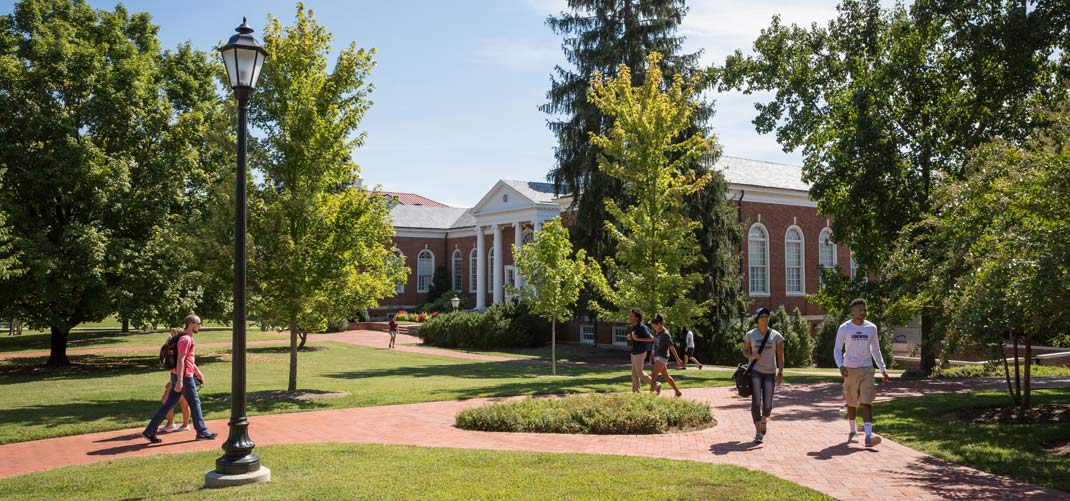 Founded in 1839 as the Farmville Female Seminary Association, the institution had a series of names over its early history, becoming Longwood College in 1949 and turning fully co-educational in 1976. In 2002, Gov. Mark Warner signed legislation designating Longwood a university. In 2007, Longwood began competing in NCAA Division I athletics. Among Division I schools, Longwood is among the 50 oldest institutions in the country. The university is a member of the Big South Conference.
Longwood students are known for their commitment to campus leadership in extracurricular life. There are more than 125 campus organizations, including active programs in sports and the arts, and a vibrant, service-oriented Greek system (four national sororities were founded at Longwood). Most students live on or close to the university's bucolic central campus, which – combined with the relatively small scale of about 1,100 students in each entering class – contributes to the look and feel of a private college with the cost and scope of a public institution. Underscoring its commitment to affordability, in 2014 Longwood announced a 2.1 percent tuition increase, it's lowest in 14 years. Reaffirming that commitment, in 2015 Longwood approved a second consecutive increase of less than 3 percent—by far the smallest two-year price increase seen at any Virginia public university since 2001-02.
Learning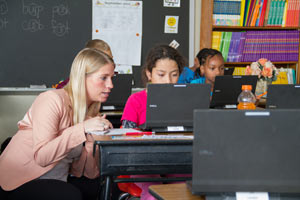 Academically, Longwood takes pride in its historical roots preparing teachers with exceptional and widely honored programs in education, but its excellence has expanded across a comprehensive curriculum. President W. Taylor Reveley IV, who took office in June, 2013, has emphasized a strong grounding in the liberal arts and sciences as the heart of the academic enterprise, and an essential element of the curriculum for all students, but many students major in pre-professional programs such as business and nursing. Longwood's faculty are known for their commitment to teaching on a personal scale, and their ranks include winners of state and national teaching awards. A growing number complement their classroom instruction with a broadening focus on research, and there is a university-wide commitment over the coming years to expose every student to an undergraduate research experience with a faculty mentor. Today, the university is comprised of five colleges: the Cook-Cole College of Arts and Sciences, the College of Business and Economics, the College of Education and Human Services, the College of Graduate and Professional Studies, and the Cormier Honors College. Longwood is one of the few institutions in the country to require all students to complete an internship or similar learning experience before graduation.
Campus and community
Longwood's students, faculty and alumni enjoy a distinctive camaraderie, deeply rooted in a sense of place tied to the campus in historic Farmville, Virginia – one of America's oldest two-college communities (Hampden-Sydney College is nearby). The university's signature building, Ruffner Hall, with its famous rotunda, dates to the 1880s and was rebuilt after a 2001 fire that took place in the midst of a $12 million renovation. Eight paintings on the interior of the rotunda dome, created in 1905 by the Italian-born artist Eugene D. Monfalcone of Richmond, had been removed for restoration prior to the fire and were later returned to the reconstructed building. An historic statue of Joan of Arc, affectionately known to generations of alumni as "Joanie on the Stony," was also recently restored and returned to its place of honor on the main floor beneath the rotunda.
The campus was transformed by the 2004 opening of Brock Commons, a park-like pedestrian promenade that replaced what had been a street running through the heart of campus, providing a focal point for campus while eliminating traffic and safety hazards. Other signature spaces on campus include Lancaster Hall; the Cole Gallery, featuring a collection of more than 500 pieces of 19th-century Bohemian glass; Blackwell Hall; and the state-of-the-art Chichester Science Center, which opened 2005 and includes 23 classrooms and laboratories.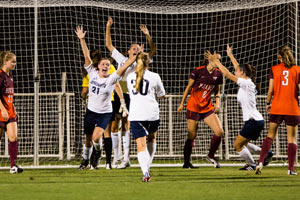 Longwood's campus continues to evolve and improve with echoes of the classical style of foundational buildings such as Ruffner and Blackwell. Recently constructed buildings also include the 75,000-square-foot Health and Fitness Center, featuring an indoor track, basketball and racquetball courts, climbing wall, workout rooms, juice bar and the latest training equipment. The 2009 Center for Communication Studies and Theatre features a 174-seat "black box" theater and a smaller studio theater, along with a scene shop, costume shop and drafting lab. There are currently $150 million in active capital projects underway at various stages of planning and development, including a new University Center that will become the central spoke of student life, a new Student Success Center and a new academic building.
Just a few steps from campus on Farmville's Main Street are the Longwood Center for the Visual Arts, one of just a few dozen nationally accredited university art museums in the country, and the Robert Russa Moton Museum for Civil Rights in Education. One of the remarkable facts of Longwood's history is its close connection to two transcendent historical events. The Civil War ended practically at one end of campus, with some of the last fighting of the Civil War taking place at High Bridge, a few miles outside town. On April 7, 1865, General Lee held one of his final meetings of the war in Farmville, a few blocks from campus, while trying to provision his retreating Army, but was quickly forced to continue his retreat. General Grant arrived with Union forces just a few hours later and he reviewed his troops from a hotel just a few blocks away. Two days later, with Lee's surrender a few miles west at Appomattox, the war came to an end. Today, High Bridge is the centerpiece of High Bridge State Park, a 31-mile "rails-to-trails" pathway for bicycling, hiking and horseback riding that runs across Farmville's Main Street and is easily accessible from campus.
Nearly a century later, the modern civil rights movement arguably began, also just a few steps from campus, with the strike by students at Moton High School against conditions at their segregated school. Those students eventually became one of five groups of plaintiffs in the Brown vs. Board of Education lawsuit, and were the only group led by schoolchildren, rather than parents. Today, Moton is a National Historic Landmark and award-winning museum. Through coursework and service learning opportunities, hundreds of Longwood students visit Moton each year, and the level of co-operation in education and scholarship is poised to expand as the university and museum are in the process of negotiating a formal affiliation.

Additional Resources
Also near the central campus are three-campus managed apartment communities: Longwood Landings at Mid-Town Square, Longwood Village and Lancer Village. Some of the amenities and features of the apartments are private bedrooms (some with private baths), full kitchens (most with dishwashers), washer-dryer units, large living areas and high-speed Internet. Two of the three communities have fitness rooms, and one has a swimming pool and a game room. Longwood has also been renovating central campus dormitories such as Wheeler and Cox Halls in recent years, and there is additional dormitory space in the construction pipeline. The university is finding students eager to live on or near campus and engage in campus life, and believes residential learning is a key component of the type of human-scale education that is Longwood's hallmark. Meanwhile, underscoring Longwood's environmental commitment, the university has for 30 years used biomass (sawdust) to produce steam to provide heat and hot water for campus. Longwood is one of the few universities in the nation that burns biomass for heating fuel.
Longwood students also benefit from other resources further afield, including the Dr. James W. Jordan Archaeology Field School in Cumberland State Forest, and Hull Springs Farm, a 662-acre property along a tributary of the Chesapeake Bay in Westmoreland County. With 8,400 feet of tidal shoreline, Hull Springs is emerging as a centerpiece of Longwood's expanding programs in fields such as biology and environmental education. Its living shoreline project has effectively halted shoreline erosion and created a biologically diverse marsh that serves as an important teaching tool for Longwood students. Hull Springs is also the site of a signature Red Oak Tree that is estimated to be more than 400 years old, predating the settlement at Jamestown.
Longwood is accredited by the Commission of Colleges of the Southern Association of Colleges and Schools to award bachelor's and master's degrees, among many other accreditations for individual colleges and programs.
President Reveley is Longwood's 26th president. His grandmother, Marie Eason Reveley '40, her two sisters and her mother Carrie Rennie Eason '1910, were Longwood graduates, and his great-grandfather, Dr. Thomas D. Eason chaired its biology department in the early 20th century. A graduate of Princeton University, Union Presbyterian Seminary and the University of Virginia School of Law, President Reveley previously practiced law with Hunton & Williams and then served as coordinating attorney of the National War Powers Commission co-chaired by former Secretaries of State James Baker and Warren Christopher. Immediately prior to assuming Longwood's presidency, he was managing director of the University of Virginia's Miller Center, a nonpartisan institute focused on the U.S. presidency, policy and political history. He and his wife Marlo are the parents of young twins, May and Quint. (For a profile of President Reveley, see this Washington Post article.)
President Reveley's father, W. Taylor Reveley III, is president of the College of William & Mary, and his grandfather, W. Taylor Reveley II, was president of Hampden-Sydney from 1963-77.