News & Updates
< Back to News & Updates
Debate 2016: A conversation with debate coordinator Jeff Chidester on the state of preparations
March 21, 2016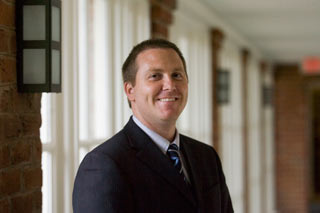 Farmville, Va.—Longwood University is just over six months away from a landmark moment in our campus's long and storied history: the 2016 U.S. Vice Presidential Debate. Longwood's preparation efforts are well underway, with Jeff Chidester serving as planning coordinator.
Chidester is the director of public policy at The Miller Center at U.Va. and co-author of numerous books on the presidency. He has coordinated numerous debate-like events and worked closely with international media on those projects. We sat down with Chidester to talk about the state of preparations in advance of October.
First, what exactly is your role in the debate?
I often use the analogy of an air traffic controller. Longwood has exceptionally talented people leading various teams to plan and execute this debate—everything from facilities to IT to security and beyond. They know how best to lead their teams, so they're the ones flying the planes. One thing that's tremendous helpful is that the debate lines up so well with the strategic goals we have a university that everyone is already working on – making the Longwood name better known, engaging students, bringing people to campus and contributing to the vitality of the community.
But, to extend the air-traffic control metaphor, someone needs to make sure the runway is clear, and that's my role. I focus on supporting the teams, coordinating activity, facilitating information flow, and ultimately building the most efficient and effective operation possible. If we are going to take full advantage of the kind of national spotlight this debate puts us in, we all have to work together—that's what will make the benefits last.
So where are we in terms of preparations? What's happening on campus?
We've talked a lot with universities who have hosted debates before, and I'm happy to report that we are ahead of the game. After the announcement last fall, we spent considerable time in what I called the "discovery phase," examining what it takes to execute an event of this magnitude and creating a management structure that takes advantage of Longwood's strengths to accomplish our goals.
That work is complete, and we've moved onto the next phase, which includes completing the first wave of tasks—identifying and selecting vendors, building digital applications, creating debate branding, developing pre-debate events, and hundreds of other things. In the coming months, we'll host a series of site surveys, each of which will unleash a new wave of activity among various teams. But I'm happy to say that with just over six months until showtime, we couldn't be in a better position.
What has surprised you?
I've been surprised at how quickly everyone here has hit stride. This won't come as a shock, but none of us have ever organized a presidential debate before. In fact, the early conversations on what to expect would have left many shuddering by the enormity of the enterprise—but Longwood has embraced the challenge and set to work right away. At times, we didn't even know what the work was, but I found people waiting with their sleeves rolled up. That told me something about the Longwood community and gave me a lot of confidence that we'll do this better than it's been done before.
What are Longwood's goals in hosting the debate?
There are several big goals. One is not just to get the Longwood name out to the world, but to tell the world a particular story – of Longwood as a place of history and consequence, and one with a distinctive citizen-leadership mission. We also want to engage students, so they will remember this for the rest of their lives, and I hope in some cases, genuinely inspired by this opportunity to experience history. Finally, we want there to be as great a legacy as possible – whether it's programming or facilities or IT, we are working hard to make sure we prepare the campus for this event in ways that will continue to benefit our students long past next October.
Among the many logistical challenges, people are curious about things like the impact on campus, and how are we going to manage logistics like parking and visitors?
That's a topic that's on a lot of people's minds, I know, and while it's frustrating, we really won't know most of the specific details until later in the spring, following a series of site visits by the Commission on Presidential Debates. But I'm confident our leadership team will handle those details in the least disruptive way possible for students, faculty, staff and town residents. This is a major event, and certainly for a few days it will be a big deal on campus, but the biggest impact won't last long.
Speaking of the town, how closely are you working with town officials? What will this mean for Farmville?
Collaboration with the town thus far has been tremendously helpful and productive, and will ramp up further as we get closer. While the main focus of events will be on the central campus, there are areas like public safety, wayfinding and parking where we will be working hand-in-glove with local counterparts. That has already begun, and we're grateful for the enthusiasm support we've gotten from local leaders.
As far as what this means for Farmville, there's an incredible story to tell here. We want everyone who comes to experience our town to the fullest—the shops, the people, the sights and the history. And we want those watching at home to have a better understanding of what makes Farmville and Prince Edward County special. We've got an opportunity to share our story with the world, and I suspect once we do people will want to come back and see us again.
One of the questions we are asked most often is how people can be involved.
That's the Longwood spirit that will be on full display in October—the first thing people want to do is be a part of making this debate special. We're building a list of volunteers right now at debate.longwood.edu/volunteer and will be sending out more information as October approaches about how people can be involved.
Do you have a sense of what this will mean for Longwood in the coming months and years?
Host sites often point to the lasting benefits their debates have generated for their universities. William & Mary and the University of Richmond—the other two Virginia schools to host national debates—often credit their debates as helping launch them into the national picture. More recently, Hofstra's applications rose by 20 percent and Centre College reported an immediate double-digit spike in applications coupled with a rapid uptick in alumni donations. Longwood's applications are up significantly. We don't know how much of that is the debate versus other factors, but considering we're still just over six months out from the event, that's pretty amazing.
More importantly, debates provide universities with a singular opportunity to spring forward on their larger strategic objectives. That's been at the heart of our effort here—making sure that the investments we make are not just for Oct. 4 but for the long-term future of campus.
We are just over six months away. What's the next phase—how are the spring and summer going to shape up?
The pace has already started to increase, and will only get faster until October 4. I expect the checklists for each team to grow considerably following the site visits this spring.
Things will look a bit different to the larger Longwood community. Between now and October 4, debate-related events, curricular opportunities and student-led initiatives will be created and generate tremendous enthusiasm across campus. There will be opportunities for alumni and community members to contribute as well. And while we're still working out a lot of details, some of the things being planned in the coming months are experiences that we'll forever remember as part of the Lancer family.